Line 32:
Line 32:
 

---------- Start of left-column - title, contents, help - dynamic width -->

 

---------- Start of left-column - title, contents, help - dynamic width -->

 

<mainpage-leftcolumn-start />

 

<mainpage-leftcolumn-start />

−
 
 

<div style="text-align:center;"><br /><big>'''Welcome to {{SITENAME}}'''</big><br />The wiki about the video game company [[Treasure (company)|Treasure]] that [[Help:Editing|anyone can edit]]!

 

<div style="text-align:center;"><br /><big>'''Welcome to {{SITENAME}}'''</big><br />The wiki about the video game company [[Treasure (company)|Treasure]] that [[Help:Editing|anyone can edit]]!

 
 
Line 50:
Line 49:
 

* [[Radiant Silvergun]]

 

* [[Radiant Silvergun]]

 

* [[Ikaruga]]

 

* [[Ikaruga]]

 
+

* [[Stretch Panic]]

 
 
 

{{col-2}}

 

{{col-2}}

Line 64:
Line 64:
 

{{col-end}}

 

{{col-end}}

 
 
−
 
−

{{HeadingA|What's new on {{SITENAME}}}}

 
−
 
−

;Date/title

 
−

:News text

 
−
 
−

;Date/title

 
−

:News text

 
 
 
 
 
 

{{HeadingA|Helping out}}

 

{{HeadingA|Helping out}}

 
⚫
 
 
 
⚫
−

To write a new article, just enter the article title in the box below.

 
 
⚫
 
⚫
 
 
−

<createbox>

 
−

width=24

 
−

break=no

 
−

buttonlabel=Create new article

 
−

</createbox>

 
 
 
 
⚫
⚫
 
⚫
 
⚫
 
⚫
 
 
 
 
⚫
 
⚫
 
⚫
 
 
⚫
 
⚫
 
⚫
 
⚫
 
 
 
 
⚫
 
 
 
⚫
⚫
 
⚫
 
−
 
 

<mainpage-endcolumn />

 

<mainpage-endcolumn />

 

<!--

 

<!--

Line 105:
Line 90:
 
 
 

---------- Start of right-column - featured article, featured media - 300px width -->

 

---------- Start of right-column - featured article, featured media - 300px width -->

 
+
 

<mainpage-rightcolumn-start />

 

<mainpage-rightcolumn-start />

−
 
 

{{HeadingB|Featured article}}

 

{{HeadingB|Featured article}}

 
 
−

[[Image:Feature.png|thumb|right|150px]]

+

[[Image:.png|thumb|right|]]

 
+

''[[Stretch Panic]] is a game developed by Treasure for the Playstation 2.''

−

''Fill me in with the first paragraph of an article that you wish to feature. Don't forget to include a <nowiki>[[link]]</nowiki> to the article so your visitors can read the whole thing.''

 
 
 
 
 
 

{{HeadingB|Featured media}}

 

{{HeadingB|Featured media}}

 
 
−

[[Image:Feature.png|300px]]

+

[[Image:.png|300px]]

 
+

''Concept art for [[Shyna Nera Shyna]]''

−

''Use this section to show a featured image, video, or song.''

 
−
 
 

<mainpage-endcolumn /><br style="clear:both;" />

 

<mainpage-endcolumn /><br style="clear:both;" />

 
 
---
Latest revision as of 14:48, 3 April 2021
Helping out
Not sure where to start?
Adding content
Talk and more...
Check out the community portal to see what the community is working on, to give feedback or just to say hi.
Featured article
Stretch Panic is a game developed by Treasure for the Playstation 2.
Featured media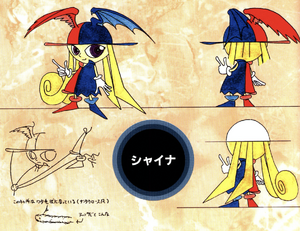 Concept art for Shyna Nera Shyna
[Template fetch failed for https://community.fandom.com/wiki/Template:GeneralGamingFooter?action=render: HTTP 404]
Community content is available under
CC-BY-SA
unless otherwise noted.